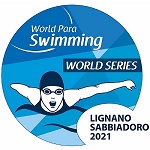 The 2021 World Series will take place in 4 countries from April to June.
Lignano Sabbiadoro, from 17th to 18th April, returns as a World Series host; the picturesque venue by the sea features not one, but two swimming pools, where more than 220 swimmers from 39 countries will compete.
LOC confirmed Natatoria as the official competition management system. Entrie will be imported from the international system(World Paraswimming) timing and poolside data management service through SwimSuite software: SwimMIX our new competition TV graphics software will make its debut with Paralympic events. It will also be possible to view event in live streaming from our web site or from our social profiles.
Links:
Home